THE "Furchetta"
FOOD BRAND FOUNDED BY OSKAR:

REFINED
Villnösser Brillenschaf
LAMB DELICACIES
With their Furchetta brand, Oskar Messner and his 3 partners want to perfect and promote Funes specialities. Freshness and quality are the main priorities. But also just as important are short transport distances, while the use of sheep's wool can be an extremely good and positive contribution to the sustainable South Tyrol agriculture.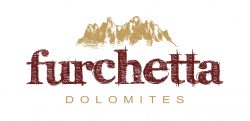 "Villnösser Brillenschaf" lamb meat is extremely high quality: its thin fibres make it tender, with a very delicate taste. On a nutritional point of view, lamb is very valued. In addition to proteins with high biological content, vitamins and minerals, it has a particularly good fatty acid profile.
With its "Villnösser Brillenschaf" lamb specialities, Furchetta offers extraordinary natural products: products that fully meet its philosophy – for many years rooted in the Funes Valley – of a relationship with nature and its resources based on awareness and sustainability.
Each ham, salami and lamb cut is hand processed following the local traditions.
Main "Furchetta" products:
Lamb cooked ham
Lamb salami
Lamb smoked salami
Rack of lamb with herbs
"Villnösser Brillenschaf" lamb ragù
Wool products